On Monday July 29th see amazing art from the golden age of Bay Area rock posters, learn how the novel chemistries of fungi are digesting plastics and building houses, and discover the ancient astronomical computer recovered from the bottom of the ocean!
Club 21 Doors and Drinks at 7PM, Talks Begin at 7:30PM. 21+ Please.

Join the Nerd Nite Email List to never miss an event announcement due to FB algorithms! 

Text "Oakland" to 345345 or sign up on the right side of this screen.
Beyond Psychedelic: Reassessing the Golden Age of Bay Area Rock Posters
The Golden Age of the Rock Poster in the Bay Area is often remembered as "psychedelic art", but these legendary posters smashed artistic barriers and created new styles way beyond psychedelia. See how famous Bay Area rock poster artists played with Pop Art, Art Nouveau, vintage advertising and surrealism from 1965-1972 to make the amazing non-psychedelic rock posters of the psychedelic era. Also learn how Jimi Hendrix ended up on Bird's Eye frozen food packaging, and why posters co-opting copyrights could create canonical concert announcements, and why corporations were cool with it.
Ben Marks is on the board of directors of The Rock Poster Society

, which produces The Festival of Rock Posters every October at the Hall of Flowers in Golden Gate Park (facebook.com/events/2339837322952990). He writes frequently about rock posters at Collectors Weekly, where he is the site's general manager. Ben is currently working on a biography of David Singer, the designer of more posters for Bill Graham during the Fillmore's heyday than any other artist.
Mushrooms Making Marvelous Materials: Advances in Mycelium Technologies
Fungi help trees communicate, turn ants into zombies, soak up heavy metals, use nuclear radiation to grow, and make Mario Super. Learn how the novel abilities of three million different fungi to digest wood, eat humans or degrade plastic are being used to create sustainable materials that will recycle our waste, grow hats, bags and boots, and build houses (yes, houses) in the coming age of mycelium manufacturing.
Sonia Travaglini founded mycelium materials research at UC Berkeley

, and completed her doctorate in Mechanical Engineering on mushroom materials by smashing, smooshing and burning them (for science). Sonia currently works with Bay Area universities to grow participation & access to engineering studies, especially for under-represented communities. When not teaching, writing papers, or working with start-ups, Dr. Sonia is improving her British Sign Language and American Sign Language.
The Antikythera Mechanism: The Ancient Computer that the Greeks Learned and Lost
Recovered by sponge divers from an ancient shipwreck in 1901, the Antikythera Mechanism demonstrated math and calculating gears which would not be seen again in the historical record for several hundred years. See how the bronze epicyclic gears elegantly computed future planetary positions, lunar phases, and eclipses by tracking subtle changes in the moon's velocity. Then learn how scientists finally unraveled the functions of the Antikythera after a century of trying, and how the astronomical principles contained in the device dates back to the ancient Babylonians and forward to the later work of Ptolemy, allowing humanity to predict the behavior of the universe for the first time.
Jeff Herzbach is a dilettante historian with a passion for learning

. His interests include history, physics, and things that shouldn't exist, but somehow do.
With music from Dj Pili drinks from Club 21, eats available for purchase from Miss Arepita-Arepa Mobile, and info from the great Oakland Public Library.
On June 24, 2019 learn how Apollo 11 was recovered by the USS Hornet, see the amazing Art Deco architecture of Oakland, and discover how novel radiopharmaceuticals are manufactured and used to treat disease.
Club 21 Doors and Drinks at 7PM, Talks Begin at 7:30PM. 21+ Please.

Join the Nerd Nite Email List to never miss an event announcement due to FB algorithms! 

Text "Oakland" to 345345 or sign up on the right side of this screen.

The Reentry and Recovery of Apollo 11
The return of Apollo 11 to Earth was nearly as complicated as the spacecraft's historic trip to the moon, requiring a perfect and harrowing 24,700 mph trip through the earth entry corridor. Learn about the critical events and meticulous planning that returned Neil Armstrong, Buzz Aldrin and Michael Collins from space to the Pacific Ocean fifty years ago, and how the design of the Apollo capsule was critical to narrowing the splashdown site for retrieval by the USS Hornet. Then see how the recovery team planned to protect earth from invasion by potential lunar pathogens with a strict quarantine and generous splashes of sodium hypochlorite before the astronauts returned to the United States as heroes.
Bill Miklos served 13 years as an officer in the United States Air Force with assignments in flight dynamics and satellite bus design

. Before retiring he was employed by Lockheed Martin Space Systems for 23 years, including time as Space Segment Director and Director of Launch and Operations Readiness for the Advanced EHF Satellite. Bill is a docent at the Hiller Aviation Museum and the USS Hornet – Sea, Air and Space Museum and is on the Board of Directors of the Vista Center for the Blind and Visually Impaired.


Laura Fies is the Director of Collections & Exhibitions at the USS Hornet Sea, Air & Space Museum

. She graduated with a Masters in Museum Studies from San Francisco State University and gravitated toward exhibition design, artifact care and graphic design at the USS Hornet. She is currently running point on the Hornet Museum's Splashdown 50 Celebration series, the commemoration of the 50th anniversary of the Apollo Program.
The Seductive Art Deco of Uptown Oakland
Faced with the aftermath of the 1929 stock market crash, a small group of businesses hustled to bring optimism back to Oakland, constructing some of California's most beautiful Art Deco buildings in Uptown. Five of these buildings, including the I. Magnin Department Store, the Paramount, and the buildings of Mary Bowles continue to seduce the street going public much as they were designed to do in the mid-1930s. See how bright one mile of neon tubing can be, discover how Art Deco and the Moderne style came to be valued as an integral part of a vibrant modern city, and learn to appreciate Uptown Oakland's irreplaceable architectural gems.
Therese Poletti is the preservation Director at the Art Deco Society of California.

She has been a journalist for over 20 years and is the author of Art Deco San Francisco: The Architecture of Timothy Pflueger, and a volunteer tour guide. Therese met her husband Andrew at a Film Noir festival at the Castro Theater, an early Pflueger theater. Her Art Deco and Modernism blog is at blog.timothypflueger.com, Instagram @timpfluegerfan and @outofavintagecloset.
Using New Radiopharmaceuticals to Treat Disease
Learn how radioactive pharmaceuticals can conquer disease, and how producing these drugs and generating new radiopharmaceuticals requires a massive interdisciplinary group with expertise in physics, chemistry and complex clinical trials. Also discover the unique "time travel trick" used to provide these short lived life-saving radiopharmaceuticals to countries without their own particle accelerators, and learn about the latest advances in discovering and scaling up cancer detection strategies and treatments with isotopes.
Andrew Voyles is an Assistant Research Engineer at UC Berkeley and leads the Isotope Production Group at the Lawrence Berkeley National Laboratory Cyclotron (Berkeley Lab)

. He earned his PhD in Nuclear Engineering at UC Berkeley in and has conducted research for medical isotope production at accelerator facilities and nuclear laboratories in Norway and Japan. Andrew is an avid baker, brewer, sailor, opera fan and leader of arcane and eldritch adventures as a 15 year Dungeon Master.
With music from DJ Rubberband Girl, drinks from Club 21, eats available for purchase from Grilled Cheese Guy, and info from the Oakland Public Library.
Join the Nerd Nite Email List to never miss an event announcement due to FB algorithms!
Text "Oakland" to 345345 or sign up at eastbay.nerdnite.com.
Club 21 doors and drinks at 7PM, TALKS BEGIN AT 7:30PM! 21+.
Tix: https://squareup.com/store/nneb/
This month learn about humanity's attempt to live underwater at Sealab, see the physical changes in East Bay cities driven by the Black Panther Party, and find out how EBMUD is replacing 4,200 miles of pipes right beneath your feet.
Club 21 Doors and Drinks at 7PM, Talks Begin at 7:30PM. 21+ Please.

Join the Nerd Nite Email List to never miss an event announcement due to FB algorithms! 

Text "Oakland" to 345345

 or

sign up on the right side of this screen.
Why Don't We Live Underwater?
The True Story & Science of Sealab
In the 1960s the United States spent millions of dollars exploring both outer space and the deep oceans, but today only one of those programs still exists. Learn why space colonies are more likely than underwater cities, what it would take to build a settlement on the seafloor, and what it's like when serious scientists have to report their findings while breathing a necessary mix of helium. Get the true story of Sealab, the first attempt at an underwater colony, with a winding history that includes astronauts, game shows, steep scientific odds, and a rescue dolphin named Tuffy.
Rose Eveleth is the creator and host of Flash Forward, a podcast about possible (and not so possible) futures. In her writing and producing career she explores how humans tangle with science and technology, and has covered everything from fake tumbleweed farms to million dollar baccarat heists. She's also logged hundreds of hours underwater and would absolutely live at the bottom of the ocean if she could. http://roseveleth.com/
Transformation of the East Bay Urban Landscape by the Black Panther Party
Many modern political actions that deal with issues of racial inequality are directly influenced by the radical activism of the Black Panther Party in the 1960s and 1970s. Based in Oakland, the Black Panther Party is well-known for changing the political landscape of the East Bay, but the Party also contributed to changes in the physical landscape that remain to this day. See contemporary and historical photographs of sites used by the Party, including important historical sites not yet memorialized, and consider the risks of collective amnesia that may come with a rapidly changing Oakland.
Dr. Alaina Morgan is a historian of the African diaspora, specializing in the history of Black radical and anti-colonial movements.

She is currently a postdoctoral fellow at Stanford University where she is finishing a project on Black Islam and Anti-Colonialism. In the Fall of 2019, she will start her dream job as Assistant Professor of United States History at the University of Southern California. A native New Yorker, Alaina lives in Oakland. She misses the pizza, but not the weather.
Rebuilding the East Bay's Water Pipeline Infrastructure
EBMUD has 4,200 miles of underground pipelines, many several decades old, and is ramping up a massive replacement program that uses the latest innovations to replace this labyrinthian network in a safe and sustainable manner. See how artificial intelligence is used to identify pipelines for replacement, and how new industrial-scale pipes are actually installed. Learn how new pipes are constructed to be resilient in the next earthquake, and how modern engineering and construction ensure that drinking water continues to arrive at your tap.
Tim Harris is a Construction Superintendent at EBMUD

with 30 years of experience working in the trenches and supervising construction work. His grandfather played for the Oakland Oaks, and Raimond Field in West Oakland is named after Tim's extended family.

David Katzev is a Senior Civil Engineer at EBMUD

with over 20 years of engineering experience and has worked on projects related to water in coastal and urban environments. David grew up in Oregon's rain, so creating intricate water channels came naturally. Tim and David are both married to school teachers, each have two daughters, and enjoy beer, skiing, and their Labrador retrievers.
With music from DJ Rubberband Girl, drinks from Club 21, eats available for purchase from Grilled Cheese Guy, and brain filling info from the Oakland Public Library.
Club 21 doors and drinks at 7PM, TALKS BEGIN AT 7:30PM! 21+.

Ticket link is found at top of page
Learn real legal lessons from Marvel (during the release of Avengers: Endgame), discover how we create the heaviest elements (during the International Year of the Periodic Table), and get the complete history of Hip Hop in California (30 years after the release of U Can't Touch This).
If the Glove Fits: Legal Lessons from the Marvel Cinematic Universe
Using Marvel stories to understand how the legal process really works is as easy as snapping your fingers. Yes Dr. Strange is a superhero, but find out how he saved the world using contract law. Was Star-Lord really the rightful owner of the Morag Infinity Stone, do the Sokovia Accords pass the Constitutional test, and how, exactly, do we prosecute Thanos? Get ready for Marvel's Endgame with a rollicking review of legal issues from the Marvel Universe.
Josh Gilliland is the co-creator of The Legal Geeks and gave a very popular talk on Star Wars Law at Nerd Nite East Bay in 2018. The Legal Geeks made the ABA Web 100 for Best Legal Blog for 2017 and 2018, and was nominated for Best Podcast for the Geekie Awards. Josh has presented at legal conferences and comic book conventions and ties a mean bow tie.
Building New Elements Beyond the Periodic Table
Like modern day and much more scientific alchemists, nuclear chemists work to construct elements that don't exist on earth but may reside on proton-packed Islands of Stability off the far end of the periodic table, where these new heaviest elements could be long lived. Learn how six new elements were added to the periodic table in the last seven years, and the techniques scientists use to construct and deduce the physical and chemical properties of new elements from just a few ephemeral atoms.
Jacklyn Gates is the Group Leader of the Heavy Element Group at Lawrence Berkeley National Laboratory. She earned her PhD in nuclear chemistry in 2008 and spent a year in Germany before returning to the US to join the Heavy Element Group.
Understanding the History of Hip Hop Culture in California
Learn about the history of Hip Hop in Northern California, separated from the gratuitous depictions presented by modern media. Explore the original music, and find out how a culture rooted in empowerment for communities of color has been quietly co-opted by three corporations that now control 90% of the Hip Hop market. See how the Hip Hop audience has changed over the years, and how Hip Hop can once again be used to support local communities.
Khafre Jay is the Executive Director and Founder of Hip Hop for Change, an Oakland 501c3 that uses grassroots activism and education to advocate for social justice in the Bay Area. He has been a part of the Bay Area Hip Hop activist community for nearly 20 years and works to reshape understanding of Hip Hop culture and its power for good.
Plus…
Music from DJ Rubberband Girl
Drinks from Club 21
Eats available for purchase from Miss Arepita
Brain filling info from the Oakland Public Library
Discover the historical heart of East Bay vice, see the source of your fresh drinking water, and zoom in on one of life's critical chemical reactions at Nerd Nite East Bay!
Doors and Drinks at 7PM,

Talks Begin at 7:30PM

. 21+ Please.

The Rotten City: When Emeryville was the Center of Vice and Corruption on the Pacific Coast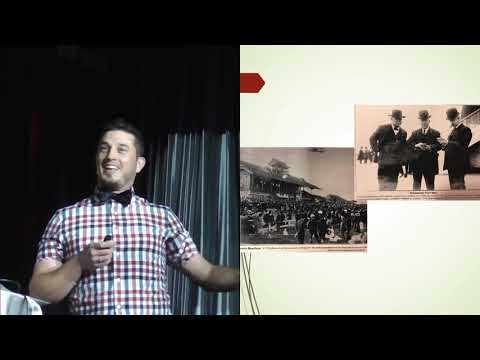 You may think of Emeryville as the East Bay home of IKEA and Pixar, but its modern shopping center facade obscures its history as "The Rotten City", when Emeryville was widely considered the most corrupt place on the Pacific Coast, an original City of Vice infamous for gambling, prostitution and bluecoat bootlegging. Get the inside scoop of how Emeryville used to out-bordello the Barbary Coast, and hear how stories from its past have created the quirky avant garde community found there today.
John Bauters is the former Mayor and current council member for the City of Emeryville and a big fan of Emeryville history.

What he foolishly thought would be a single instance of wearing a checkered bow tie to court somehow became his calling card and a closet full of seventy bow ties.
How to Photograph Photosynthesis
Local scientists just got the best snapshot ever of one of life's most important biological reactions, and you can see the new angstrom-Instagram-worthy pictures. Find out how scientists at Berkeley Lab and Stanford used x-ray lasers to get #nanoscale #glamourshots of the #realtime #essential process that uses sunlight to split water, create energy, and manufacture oxygen. Learn why visualizing molecules less than 0.1 nanometers long is so difficult and so important, and why these particular photos are critical for understanding photosynthesis and life as we know it.
Louise Lassalle is a postdoc in the Molecular Biophysics and Integrated Bioimaging Division at Berkeley Lab

and earned her PhD in France studying protein structure under high pressure (literally and figuratively). She advocates for open science, is always looking for new ways to get science out the lab and into the public, and doesn't like sparkling beverages except for celebratory champagne.
Witness Your Watershed: A Visual Tour of the Drinking Water Supplies of Northern California
Grab your life jacket and follow the watershed down The Delta, where you can meet the rivers we rely on to supply drinking water to the East Bay. From its origin as a vast inland sea to its likely return to a flooded state stretching all the way from Sacramento to the Central Valley, Northern California's watersheds continue to supply water, be affected by ocean tides more than sixty miles away, and nurture some of California's most beautiful nature. Join Nerd Nite for a tour of the wild beginnings of your most recent glass of water.
Joshua Halpern is the founding guide at Watershed Witness Tours

(www.ecocourageous.com/watershedwitness), connecting Bay Area residents with their drinking water sources. He works internationally as a metamorphosis ecologist and holds an MA in Integral Ecologies from the California Institute of Integral Studies. Josh has the river system he was born near tattooed on his back and plays apocaloptimistic music with the Home Howls.
Plus music from DJ Rubberband Girl, drinks from Club 21, eats available for purchase from Grilled Cheese Guy, and brain filling info from the Oakland Public Library.
Note new start time! Doors and drinks at 7PM, *
TALKS NOW BEGIN AT 7:30PM

*!
Note
new start time

! Doors at 7PM, *

TALKS BEGIN AT 7:30PM

*!
Learn how astronomers search for alien spacecraft, why effective recovery from exercise is so complicated, and how an East Bay landfill became filled with art and adventure at February's Nerd Nite East Bay!
Doors, Drinks and Games at 7PM, 

Talks now begin at 7:30PM

. 21+ Please.
What Beer and Running Reveal About the Scientific Method
Fresh off of Beer Week in the Bay Area, every imbiber wishes science would determine that beer is good for us. New research says that may be true, while providing valuable insight into how scientific studies really work, why experiments rarely give a YES or NO answer, and how easy it is to deliberately or inadvertently nudge a study to find the result you're looking for. Get tips for next year's New Year's Resolution, limber up for stories from the frontier of exercise recovery science, and learn how p-values can promote your next prost!
Christie Aschwanden is the author of GOOD TO GO: What the Athlete in All of Us Can Learn from the Strange Science of Recovery

(www.goodtogobook.com). She is the lead science writer at FiveThirtyEight and co-host of the Emerging Form podcast about the creative process. Christie lives on a small farm in western Colorado, raises heritage poultry, and serves as head wine taster at her husband's chillswitchwines.com.
Why a Dump in Albany is the Best Park Ever
In an age of safe (and boring) playgrounds, the rebar, rubble, scrap metal and sculptures of the Albany Bulb scream adventure! This wild user-designed park on old construction debris landfill in San Francisco Bay has attracted artists and seekers of the unusual for decades, leading to an Alcatraz Island-sized collection of lumpy terrain, surprising crannies, and renegade interpretation. Learn about the history of the Albany Bulb, and follow efforts to protect this unique urban park from ongoing attempts to manicure its beautiful roughness.
Susan Moffat is the creator of Love the Bulb, dedicated to the artistic tradition and wildness of the Albany Bulb. She runs an interdisciplinary program at the UC Berkeley College of Environmental Design. She is an urbanist, curator, and has written about the Bulb for Boom California.
SETI-ing Our Sights On Spaceships
Find out how astronomers discover distant objects and scan for potential interstellar space ships, including the surprising Oumuamua, the first known example of an interstellar asteroid that passed through our solar system and originated near another star. Get a detailed view of SETI@home history, learn how scientists determine if Fast Radio Bursts are from extraterrestrials or magnetar neutron stars, and hear where SETI on FAST and the PANOSETI all-sky-all-the-time will take the human search for alien life.
Dan Werthimer is the Chief Scientist of the Berkeley SETI Research Center

and principal investigator of SETI@home and CASPER. He is the co-author of SETI 2020 and editor of BioAstronomy: Molecules, Microbes and Extraterrestrial Life. Dan was in the original Homebrew Computer Club with Steve Jobs and Steve Wozniak but decided to search for ET instead of becoming very, very rich.
Plus music from DJ Rubberband Girl, drinks from Club 21, eats available for purchase from Grilled Cheese Guy, and brain filling info from the Oakland Public Library.
Note new start time! Doors, Drinks and Games at 7PM, *
TALKS NOW BEGIN AT 7:30PM

*!
Note new start time!

Doors at 7PM,

*TALKS NOW BEGIN AT 7:30pm*!
Learn how HIV treatment prevents evolution, how modern stop motion puppets are made and filmed, and how to have your best sex in your septuagenarian years at Nerd Nite East Bay!
Doors, Drinks and Games at 7PM,

Talks now begin at 7:30PM

. 21+ Please.

You can RSVP on Facebook HERE

How Granny Still Gets It On: Aging and Sexual Health
Getting stressed about being alone on Valentine's Day this year? Well stop worrying, you've got lots of time left, because modern research shows that grannies (and grandpas) still get it on. Learn how sex lives change from the hopeful Harold years to the later Maude march of time, and see the statistics that say weekly Adult Fun is like sexy Lipitor for your heart. Study sexual aging from the biological, psychological and (still very) functional perspectives, and start thinking about nursing homes as a return to your college dorm life.
Laura Perry is a Clinical Associate Professor at the UCSF Division of Geriatrics and the Associate Medical Director of adult primary care at Highland Hospital in Oakland

. She is double board-certified in geriatrics and internal medicine and a published sex advice columnist.
How to Treat HIV by Preventing Evolution
The intuitive thinking on how multi-drug therapies combat HIV appears to be wrong or incomplete. HIV infections are managed through combination therapy, with multiple drugs used simultaneously to prevent the evolution of drug-resistant viruses, even as HIV demonstrates an incredible endemic mutation rate of one change at every spot in the genome every single day. Follow along as HIV uses a clever and circuitous infection path that winds through multiple organs to enhance its own evolution and subvert simple treatment. Understand why current HIV therapies work so well, why they still sometimes fail, and how lessons from HIV treatment are being used to study the evolution of drug resistance pathogens and design the next generation of cancer treatments.
Alison Feder is a Miller Fellow in Integrative Biology – UC Berkeley and recently received the Milner Prize from the Milner Centre for Evolution

. She earned her PhD at Stanford studying the evolutionary dynamics of HIV. Since moving across the Bay she's been enjoying a train system that runs more than once an hour and significantly expanded dog spotting opportunities.
Making Movies at Twelve Shots per Second: How to Create & Use Stop Motion Puppets
Find out how modern stop motion puppets have gone way beyond Rudolf with computer modeling, 3D printing and the casting of two part plastic figures with internal skeletons, flexible fingers and clothing that looks life size down to the tiniest fold. See how, even with new technology, eighty hour shoots are still used to make minutes of stop motion footage, gain a greater appreciation for some of cinema's most famous scenes, and hear the truth about working in the film industry. Plus discover the advantages that plastic figures still have over CGI, learn how to make your own toys, and check out famous movie puppets that will be at the event.
Victoria Rose Most is a feature film puppet and toy maker who has worked on Coraline, Shadow King, Mermaids on Mars and more

. She attended the College for Creative studies in Detroit and turned her passion for toys into the Rawrz Toys line (Rawrztoys.com) and other quirky characters. Victoria lives in Oakland with her husband Kyle, their cat Marvin, and they (the humans) both work in 3d prototyping at Facebook. More at victoriarosepuppets.com
Plus music from DJ Rubberband Girl, drinks from Club 21, eats available for purchase from Miss Arepita, and brain filling info from the great Oakland Public Library.
Note new start time! Doors, Drinks and Games at 7PM,
*TALKS NOW BEGIN AT 7:30pm*!
We're off this month, but please swing by Office Hours on 12/17.
We're also offering $5 tickets to our January show this whole month.  Talks:
Evolutionary Biology of HIV (Alison Feder, UC Berkeley)
Stop Motion Animation (Victoria Rose, Puppet maker)
Granny Still Gets it On: Aging and Sexual Health (Laura Fernandez, Alameda Health System and Highland Hospital)
And, as usual:
Eats: Miss Arepita
Beats: DJ Rubberband Girl
Reading Sheets: OPL

We're off in December, but welcome your feedback as we plan next year's shows. We'll have a few pitchers of beer to share and look forward to chatting with you.
Monday 12/17/2018
6:30PM-7:30PM
Good Hop, 2421 Telegaph, Oakland
FREE

fb
***To support our NorCal neighbors affected by the Camp Fire, Nerd Nite East Bay will be donating all of the proceeds from our 11/26 show to the relief effort.
Golden Valley Bank is collecting funds and is a vetted, local bank and charity organization with 100% of donations going to those in need.
www.goldenvalley.bank/Community-Foundation.aspx
Come see the show and contribute to an important source of help for your fellow Californians. Thank you!***
Follow the legendary journey that mapped the Grand Canyon, find out how California detects election hacking, and see how seed biodiversity critical to the future of earth's food supply is being saved!
Doors, Drinks and Games at 7PM, Talks at 8PM. 21+ Please.

RSVP on Facebook HERE

The Epic Quest to Map the Grand Canyon
Descend into the story of the greatest map making feat of the mid-20th century, as 700 helicopter trips, over one hundred miles of trails surveyed by hand (and foot), and thousands of manual angle measurements created the amazing 1978 map of the Grand Canyon, a still legendary cartographic accomplishment. Find out how new laser range-finders and theodolites turned impossible cartography into merely extremely difficult map making, how three-dimensional topography is made accessible on a two-dimensional map, and see how color maps are made from field data to create beautiful, useful images.
Betsy Mason is the co-author of All Over the Map

, based on the eponymous blog from National Geographic, which explores the intriguing stories behind maps across history. She was an MIT Knight Science Journalism Fellow, science reporter, and the online science editor for Wired.
Saving Seeds for Earth's Unknown Future
With extreme environmental stress brought on by climate change, maintaining a wide range of genetic options that will allow plants to "discover" solutions for survival on our changing planet is the best and perhaps only solution. Learn why seed and crop biodiversity is critical in droughts, and how Syrian seeds will save the American wheat crop. See how the corporate seed industry has narrowed the genetics of crops, lament the 75% of seed variation that has gone extinct in the last century, and discover how seed banks are injecting much needed variation into our planet's biome.
Mark Schapiro is the author of Seeds of Resistance and has spent three decades as an investigative journalist focused on the environment.

He has published numerous books and teaches in the UC-Berkeley Graduate School of Journalism.
Как рассказать, взломали ли выборы
(How To Tell If An Election Has Been Hacked)
Can election officials ever stop all software errors, malware, malfeasance and foreign hacking? Nyet! But science and math can still give us the "right" answers. Learn how mandated Risk-Limiting Audits (RLAs), now the law in California, harness statistics to detect voting manipulation. Then learn about the movement by prominent scientists, statisticians and voting advocates to push past political opposition to RLAs and restore confidence in the US electoral system.
Philip B. Stark is the Associate Dean for the Division of Mathematical and Physical Sciences and a Professor of Statistics at UC-Berkeley.

His work focuses on developing confidence procedures for specific goals, including the U.S. census, climate modeling, the food web, geriatric hearing loss, and product liability. Election auditing methods developed by Philip have been incorporated into laws in California, Colorado, and Rhode Island.
Plus book sales from E.M. Wolfman General Interest Small Bookstore, food from Grilled Cheese Guy, music from DJ Rubberband Girl, info from the Oakland Public Library, and drinks from Club 21 in Uptown Oakland!
See you on Monday Nov 26 at Club 21 in Oakland!
Doors, Drinks & Games at 7PM, Talks at 8PM. 21+ Please.
Tix: squareup.com/store/drinkified-learning-llc